What is Die-Cutting?
Die cutting refers to the process in which you use a machine and a die to cut out multiples of the same shape. Think of the die as a cookie cutter. You can create the same shape over and over out of multiple materials without using scissors, a craft knife or any other means to cut them out. It saves you time and makes your shapes look so much nicer than hand-cutting.
---
AccuCut Die-Cutting Machines
All three AccuCut die-cutting machines are operated by hand. Simply turn the handle and the roller action of the machine combined with a steel-rule die allows you to cut through anything you can cut with scissors. In just a matter of seconds you can cut through construction paper, cardstock, chipboard and more! The pressure is pre-set so you get perfect cuts every time.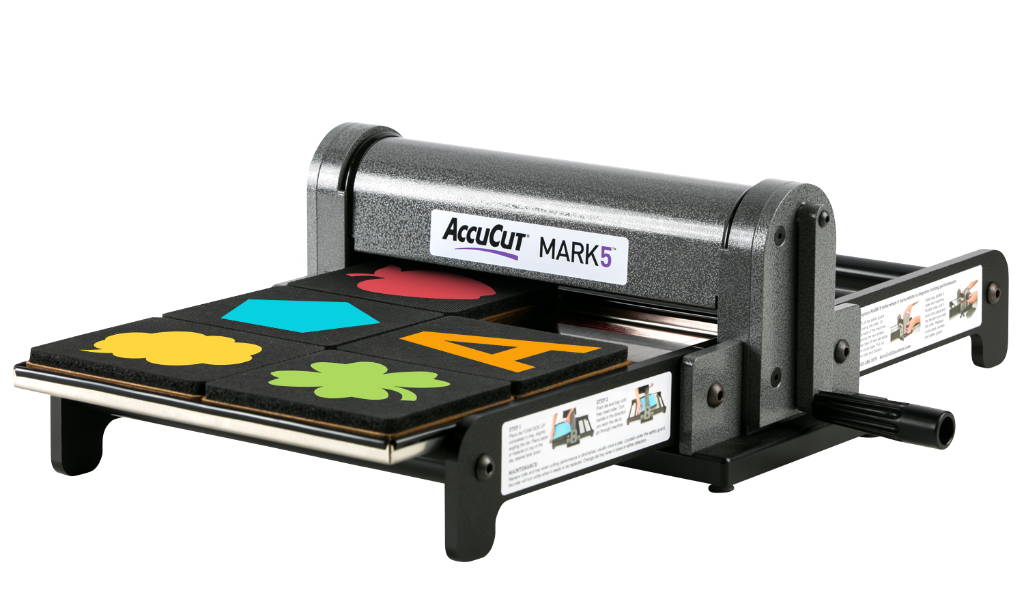 ---
MARK 5 Die-Cutting Machine
Most popular machine for schools, churches and libraries
Fits up to Super Jumbo (10" x 15") dies
Cut up to six layers at once
Dies cut through material into a roller that wears down with use. Replace roller and tray about once a year.
Easiest machine to use since it does not require Cutting Plastic on top of the die and material although you may see slight skewing of shapes.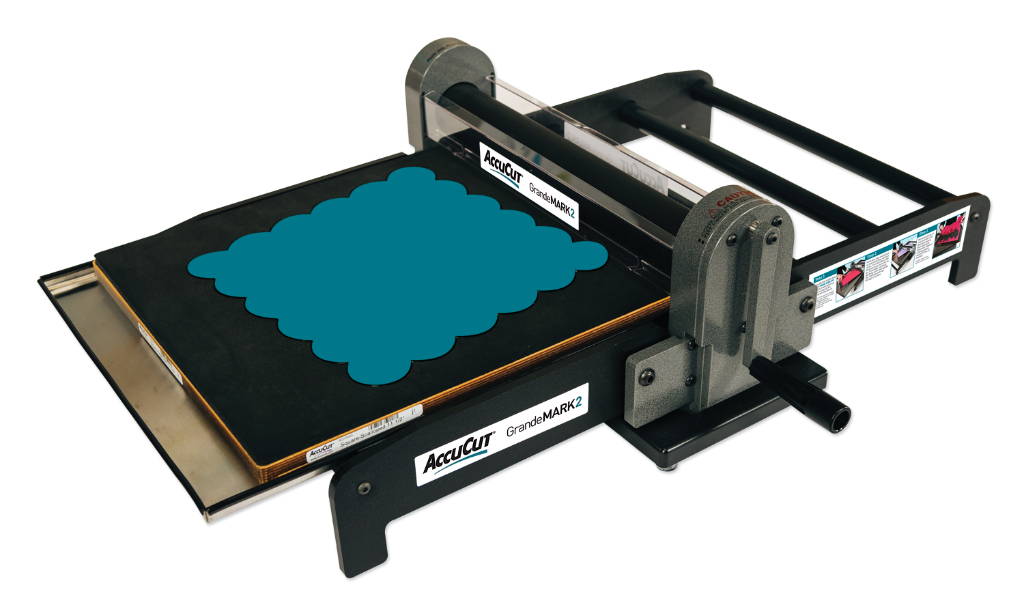 ---
GrandeMARK Die-Cutting Machine
Most popular machine for stationery, scrapbooking, crafts and precise cuts
Fits dies up to 15" wide including Giant dies
(15" x 18")
Cut up to 10 layers at once although we recommend one layer for cards, boxes and other stationery shapes
Dies cut through material into a consumable Cutting Plastic or Cut & Crease Mats. Replace plastic, mats and die tray as needed.
---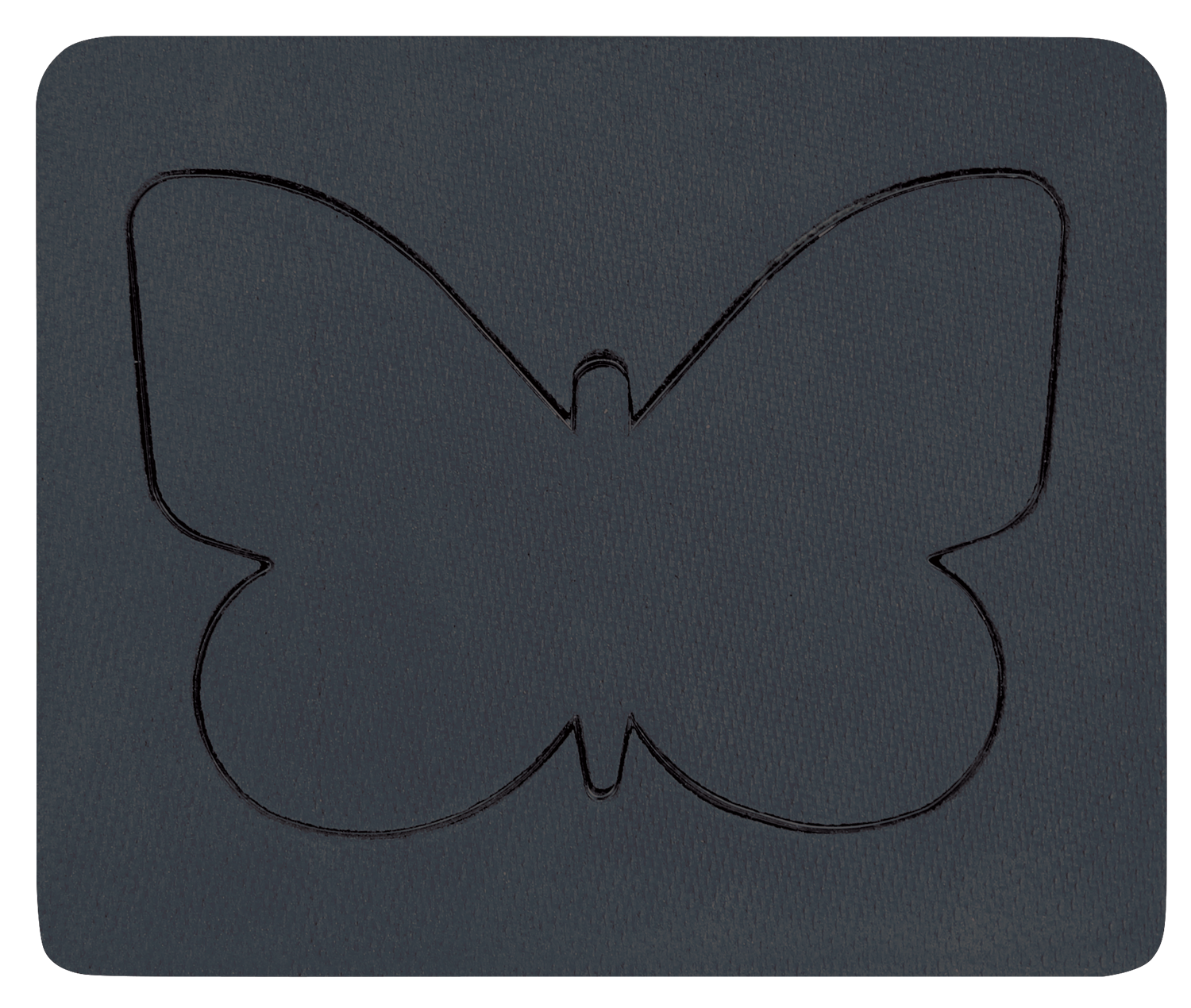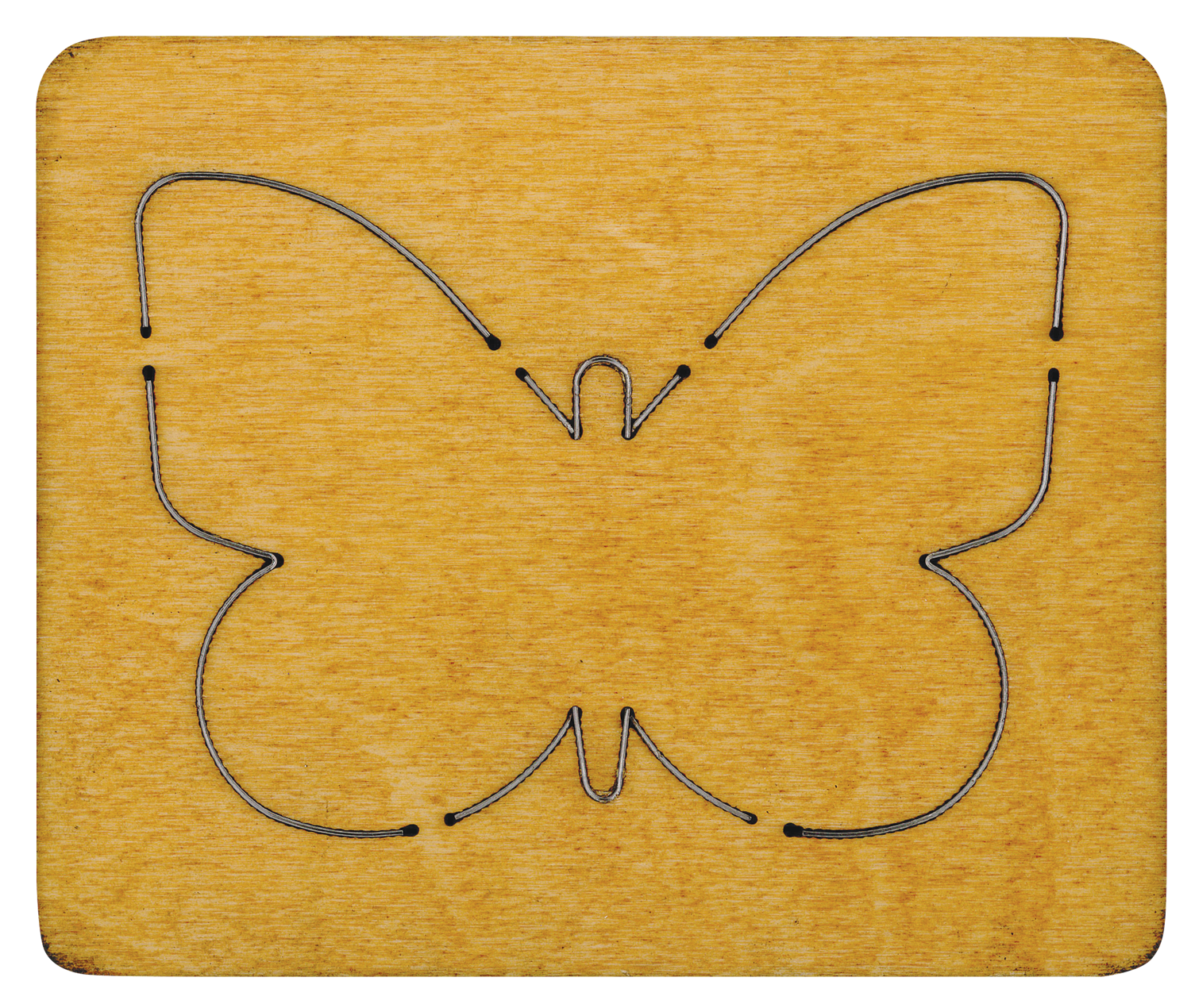 ---
AccuCut Steel-Rule Dies
AccuCut standard wood dies are .937" thick and have steel-rule blades that ensure a precise cut each pass through the machine. The blade cuts through the material and into the MARK 5 or MARK 3 roller—or into the cutting plastic or mat if using a GrandeMARK 2 machine. The steel-rule blades are protected by foam that helps to eject the shape from the die. Remember, dies cut face up in AccuCut machines, so it's easy to see what you're cutting.
We also make dies with registration pins called Pinnovation dies that can be used in our GrandeMARK 2 machine that allow you to speed up production of preprinted invitations, announcements, favor boxes and more.
Instead of wood, Clear Cuts dies have steel rule placed in clear acrylic dies. Use these dies when you want to accurately position a die shape over artwork, photos or text and then cut exactly where you want. This is helpful when a Pinnovation die is not compatible with your die-cutting machine. They are ideal for door hangers, visors, photo shapes and more.
Materials You Can Cut with a Steel-Rule Die
A good rule of thumb is that if a material can be cut with household scissors then it can be cut it with a steel-rule die. Here is a list of some of the items:
Blotter Paper
Bubble Wrap
Burlap
Cardstock
Chipboard
Construction Paper
Contact Paper
Cork Sheets
Crepe Paper
Craft Metal
Fabric
Felt
Flexible Magnet
Foil Paper
Gasket Material
Gift Wrap
Grip Tape
Leather
Medical Tape
Mole Skin
Mylar
Neoprene
Paper
Photo Paper
Plastic
Playing Cards
Polypropylene
Poster Board
Rubber
Sandpaper
Silicone
Sponge
Tag Board
Thin Metal
Tin Foil
Tissue Paper
Velcro
Vinyl
Wallpaper
Wool
---
---
What Type of Projects Can You Create?
AccuCut machines and dies can be used for a wide range of projects.
Math manipulatives
Shape books and journals
Posters, banners and signs
Bulletin boards and static visuals
Puzzles and magnets
Flash cards and games
Practice wheels and slides
3-D geometrics
Diagrams and models
Picture frames
Window and door decorations
Borders and timelines
Bookmarks
Masks, hats and crowns
Awards and recognition
School spirit items
Puppets and community helpers
Mobiles and charts
Mascot shapes and names
Seasonal decorations
Decorations and wearables for holiday programs
Event signs and decorations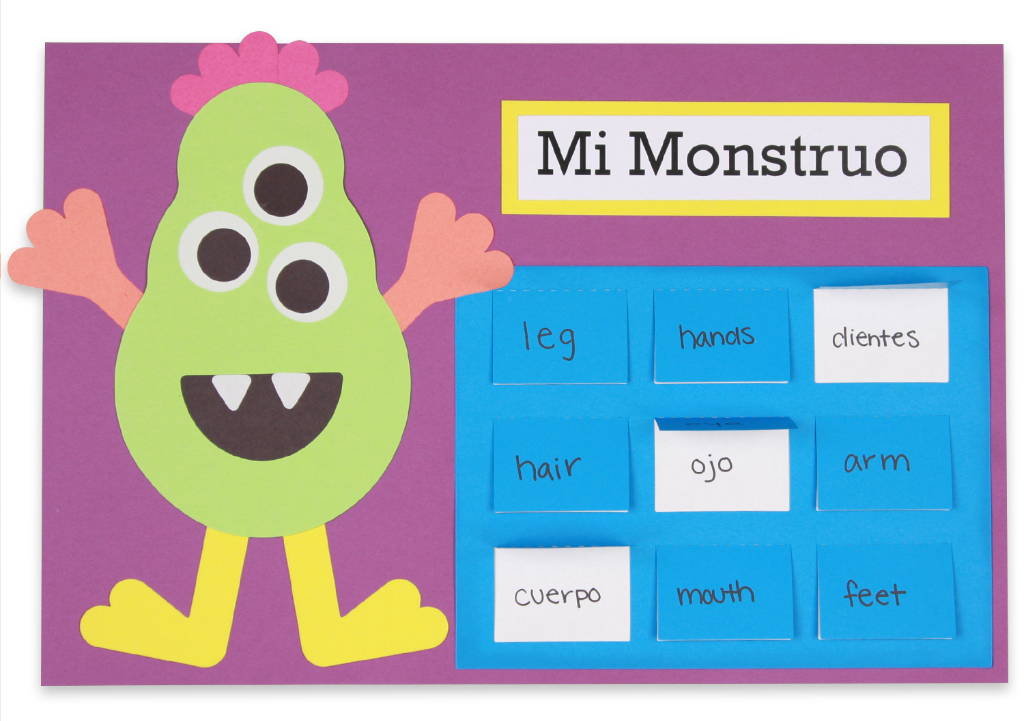 Hand-on lesson and craft activities and decorations to support:
Sunday School
Vacation Bible School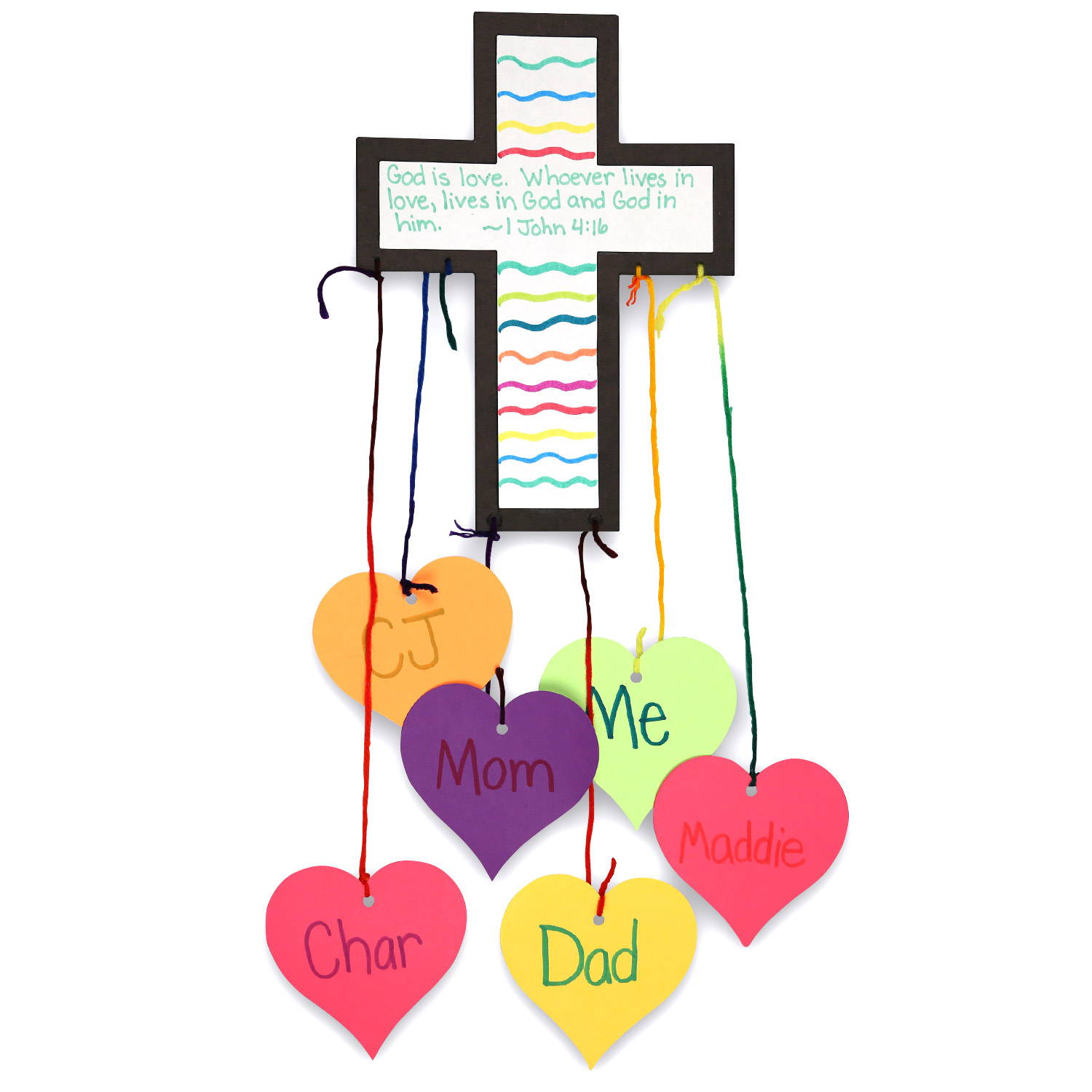 Hands-on activities, bookmarks and decorations to support:
Summer reading programs
Children's literacy programs
Adult literacy programs
Seasonal and holiday-related programs
Shop for Literacy and Library Dies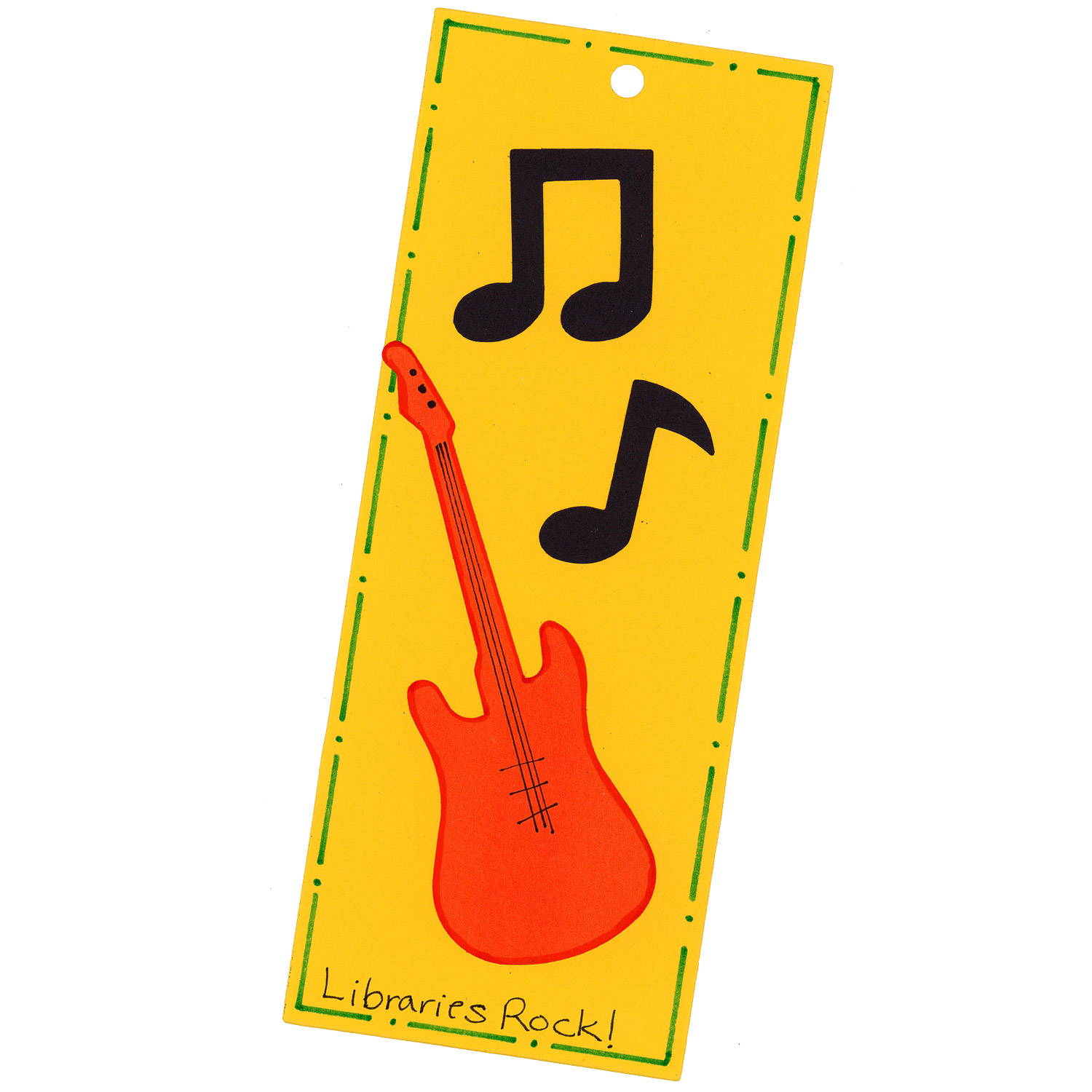 ---
Starter Sets for Educators
MARK 5 Starter Sets are a smart choice for schools, churches and libraries who are new to die cutting. You will get a machine, a set of dies depending on your interests and storage racks for the dies.

See all MARK 5 Starter Sets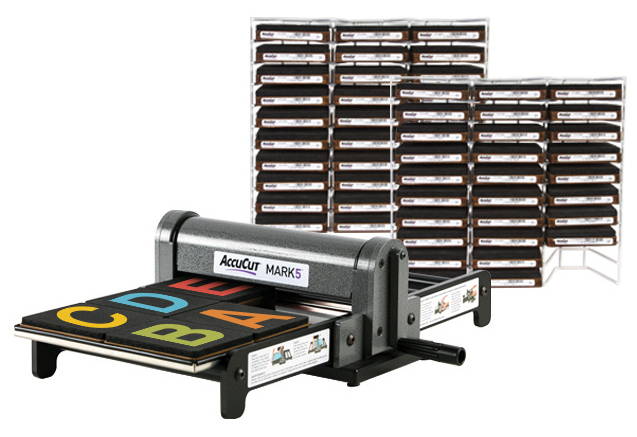 ---
Interested in a Product Catalog?
We no longer send out a product catalogs. You are able to find all the products here on our website. If you need help finding the right product for you, please let us know, we are here to help. We have a digital version of the 2018-2019 Education Product catalog available for a digital download here.
---
---